THIẾT BỊ LƯU TRỮ NAS Thecus N4100EVO
Số lượng:
Item
Spec
Processor
Dual-core Cavium CNS3420 SoC @ 600Mhz
System Memory
256MB DDR2
LAN Interface
RJ-45x2: 10/100/1000 BASE-TX Auto MDI/MDI-X
USB Interface
USB 2.0 host port x2 (front x1, back x1)
LCD Indicators
Power (blue)
System Busy (orange)
HDD1 Power, Activity/Fail (blue, yellow/red)
HDD2 Power, Activity/Fail (blue, yellow/red)
HDD3 Power, Activity/Fail (blue, yellow/red)
HDD4 Power, Activity/Fail (blue, yellow/red)
WAN/LAN1 (Activity: green)
LAN2 (Activity: green)
System Failure (red)
LCD Module
2*16 character display with 4 buttons
Disk Interface
4 x SATA for internal
Power Supply
Internal 150W above
Thermal Control
System temperature control
Buttons
Power button (Front, shutdown controlled by user interface)
Environment
Temperature: 5°C to 40°C
Humidity: 0 ~ 80 % R.H. (Non-condensing)
Chassis
Metal chassis
Dimensions (HxWxD)
226 x 165 x 192 (mm)

2. Software Functions
RAID
RAID Modes
RAID 0, 1, 5, JBOD
Auto-rebuild
Supported
Hot-swap
Supported
Disk
Power Management
Available spin-down while idle setting
Bad Block Scan
Supported
SMART Info
Supported
SMART Test
Supported
Roaming
Support roaming to other N4100EVO NAS
Network
Configuration
Fixed IP address, dynamic IP address
Transport Protocols
TCP/IP/Appletalk
File Protocols
SMB/CIFS, HTTP/HTTPS, FTP, NFS, AFP
Data Access
Client OS Support
Windows 2000/XP/2003/Vista/7
UNIX/Linux
Mac OS
FTP
Built-in FTP server with bandwidth control
Secure FTP
Built-in secure FTP server with bandwidth control
TFTP
Users can download and upload files with TFTP programs.
Download Manager
HTTP/FTP/BT/eMule (via DLM module)
NZB download (via NZB module)
Printer Server (IPP)
Support USB printers
Supports a wide range of IPP printers
Client can manage print tasks (restart/remove) via web user interface
Data Backup
Client Incremental Data Backup
Acronis True Image (OEM version)
Client System Disaster Recovery
Acronis True Image (OEM version)
USB Copy
Copies USB device contents to the NAS (via USB Copy module)
NAS Data Backup to External USB Device
Supported (via USB Backup module)
Bi-directional USB Copy
Supported (via USB Copy module)
Client Side Backup Software
Thecus Backup Utility (Windows/Mac OS X)
Rsync Backup
Rsync replicates data between two systems (via Rsync module)
Mac OS X Time Machine
Supported
Block Level Access
iSCSI Target
Supports Microsoft/Mac OS X/Linux initiators
Power Management
Scheduled Power On/Off
Supported
Volume Management
File System
XFS
Multimedia Support
iTunes Server
Supports AAC, MP3 w/ ID3 tag, WAV
Piczza!™ Web Server (via module)
Supports GIF, JPG (JPEG), BMP, PNG
Support EXIF display
Support slide show
Media Server
Supports uPnP AV streaming protocol (via Twonkymedia module)
Simple Surveillance
Supports up to 2 IP cameras (via IP Cam module)
User Authentication
Local User
Supports built-in user accounts
Local Group
Supports built-in user groups
File System
Type
Journaling File System
Capacity
8TB or above
Language Support
Unicode Support
Authorization
"Read", "write", or "deny" privileges to individual users or groups in folders and sub-folders
Administration
User Interface
Web-based user interface supports English, Traditional Chinese, Simplified Chinese, Japanese, Korean, French, German, Italian, Spanish, Russian and Polish
Utility Program
MS Windows Setup Wizard
Supports Windows 2000/XP/2003/Vista/7
Mac OS X Setup Wizard
Email Notifications
Sends system messages via email to the system administrator
Others
Recycled Bin
Supported
Web Disk
Supported
ISO Mount
Supported
Auto Module Installation
Thecus's module server automatically provides the latest modules and updates through the user interface
DLNA-Compliant Media Server
Thecus NAS make an excellent media server and can easily store huge libraries of songs, pictures, and movies. The DLNA-Compliant Media Server allows you to stream all of your multimedia on your TV, stereo, or mobile device.

Acronis True Image
Thecus brings the best to the table with Acronis's advanced backup software. Back up all your data with One-click Protection or pick and choose only your most important files. Acronis sports a slick interface, user-friendly design, and comprehensive features to keep your data safe.

RAID Accelerator
RAID5 is the ideal compromise between safety and speed for 4-bay NAS. However, (re)building RAID can be an arduous process and take many hours while reducing the NAS overall performance. The N4100EVO's RAID accelerator builds RAID5 quicker with a dedicated chip, saving you time and keeping the main CPU available for other tasks.

Rsync
Backing up your data is very necessary, and everyone has specific needs when it comes to storage. Thecus's Rsync functionality gives users great flexibility with remote backup capability, a flexible scheduler, and the stability of Linux-based transfer.

Energy Saving
The power needed to keep your NAS up and running can greatly add to its overall cost. Lower your Total Cost of Ownership with the N4100EVO's advanced power saving features. With scheduled power on/off, you can tell your N4100EVO to only turn on during certain times during the day. And with auto disk spindown and an enhanced power saving design, the N4100EVO is a veritable energy miser.

AJAX
Getting your N4100EVO up and running shouldn't be a hassle, which is why it comes equipped with a Simple Setup Wizard to guide you through the entire setup process. Once you're up and running, the new AJAX-based user interface makes using the N4100EVO simple and hassle-free.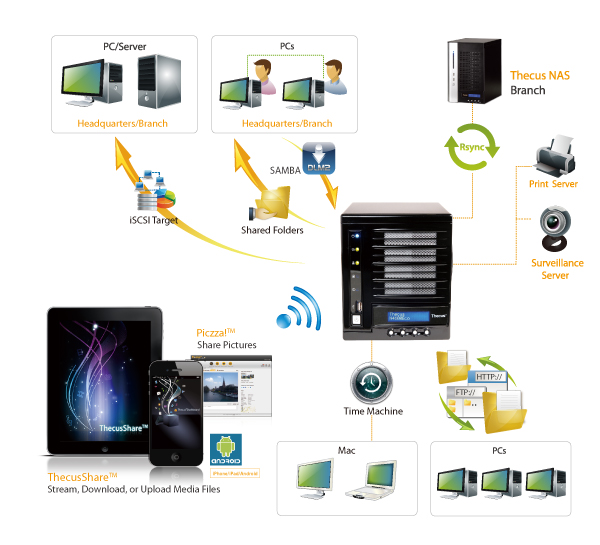 Thế Giới Số chuyên cung cấp dịch vụ MÁY CHỦ: thuê máy chủ DELL, thuê máy chủ HP, thuê máy chủ IBM - LENOVO, thuê máy chủ giá rẻ, đặt máy chủ VNPT, đặt máy chủ VIETTEL, đặt máy chủ FPT, đặt máy chủ ODS, đặt máy chủ giá rẻ, tại các Datacenter uy tín, chất lượng hàng đầu tại Việt Nam.